I first met Dave B. on the ARC forums where he helped out people with their EH101 models. I soon found out that Dave himself was working on an impressive collection.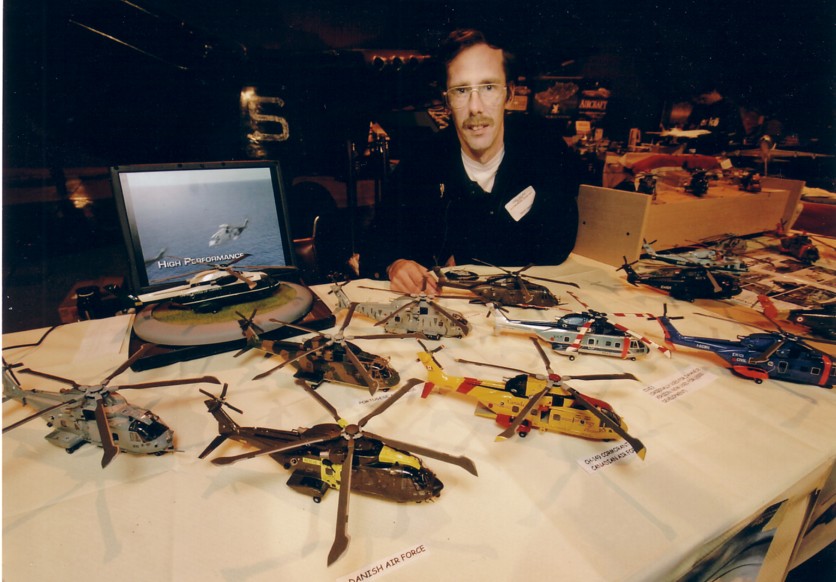 Here is Dave's article on how he built a Danish EH101 Merlin in the search and rescue configuration:
---
', '
As you can see I've a small collection of EH101 models!  Due to a family connection with Augusta/Westland's and the availability of several kits of this versatile helicopter, I decided to model as many of the variations as possible. When it was announced that the Danish government had ordered some my excitement grew. This model was first started when the first a/c had flown, but as the first a/c looked nothing like the production version, it was placed on hold for a month or two!Original kit used is the Revell RAF Merlin kit, which is no longer produced, but can be found if you look hard enough! I would think you can use the Italeri Cormorant kit, but will need extra modifications. First task is to add extra windows. Fairly straight forward job of marking position, cutting holes & fitting new windows. Luckily there's extra windows supplied in the kit, so no need for spares!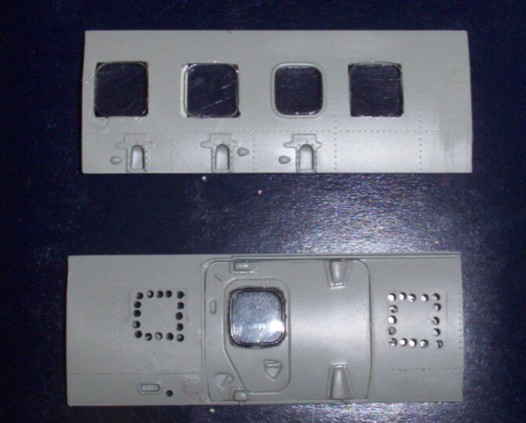 Majority of rest of build is as per kit instructions. Paying attention to filling gaps where needed. There's one or two extra lumps to fit such as vents just behind cockpit, Aerials above cockpit & on tail spine. The front crew door was replaced with a scratch built one from plastic card. Underneath had the aerials & extra search lights fitted.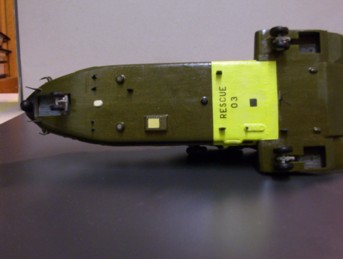 I thought long and hard about the nose. Luckily a friend of mine made me one from resin from original drawings, so that's made that easy!Next job is painting it. The colour is very deceiving on this helicopter, depending on the light conditions. I used Humbrol 116 (dark green) with a few drops of Humbrol 16 (gold). After a lot of testing I was happy with the mix. A coat of varnish was added afterwards, as new a/c have a shine to them. The yellow used was Revell 312.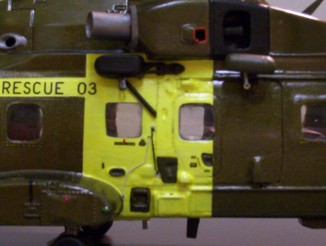 The roundels & tail flag were painted on, lettering from spare decals & squadron badge via Jens!! (thanks mate!)Extra details such as the double winches were scratch built and the other one was a left over from a previous EH101 build.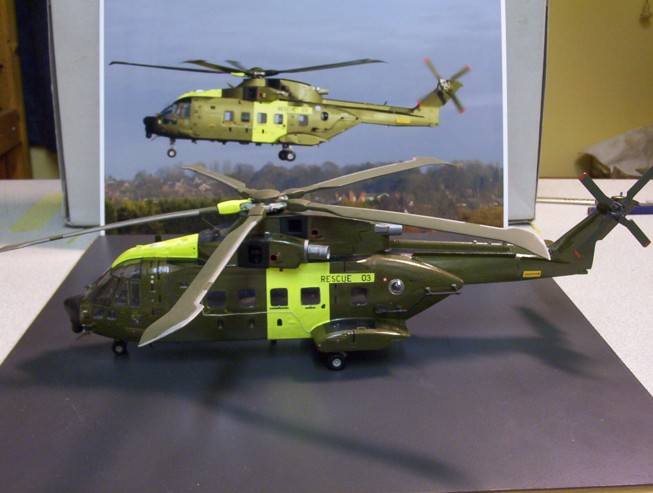 Here's the finished model. Overall enjoyable one to do & a nice addition to my collection. If you need any help or questions feel free to contact me, Dave.