| | |
| --- | --- |
| AFV Club F-5E USAF Aggressor Project Part 3: Black 35 - Grape Scheme | |
Written by Administrator
Monday, 11 April 2011 00:00
AFV Club F-5E USAF Aggressor Project Part 3 - Black 35 of the 527 AGRS. 
This is the second of my F-5Es. It is finished in the Grape scheme and has markings from 527 AGRS.
The first colour, FS 15414, was sprayed after the usual pre-shading had been done: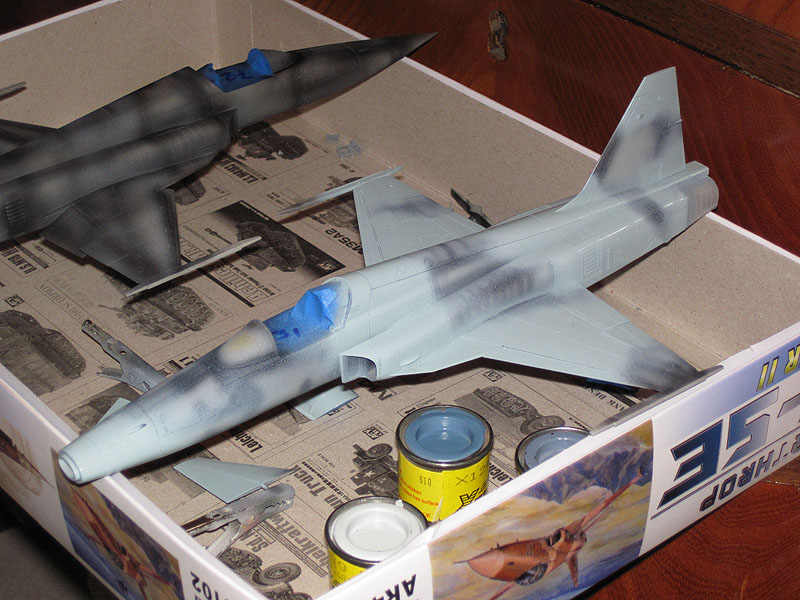 fir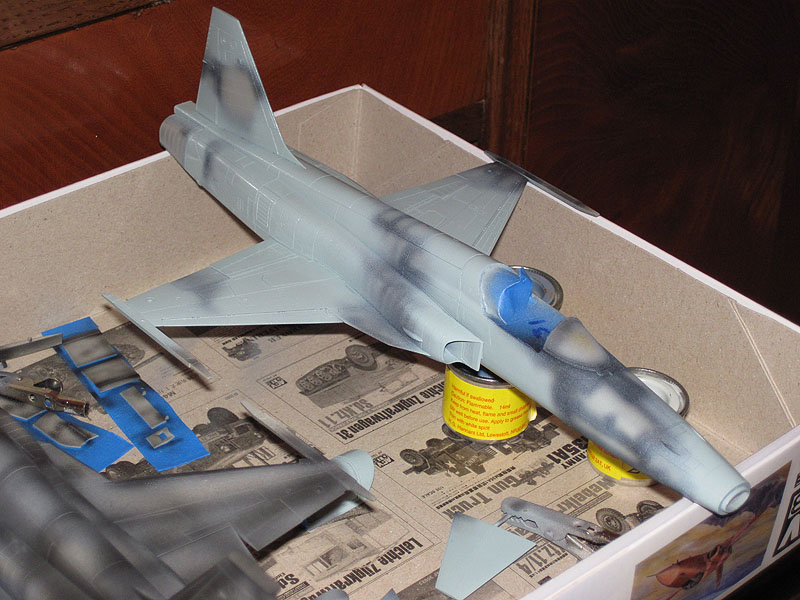 This was followed by FS 15164: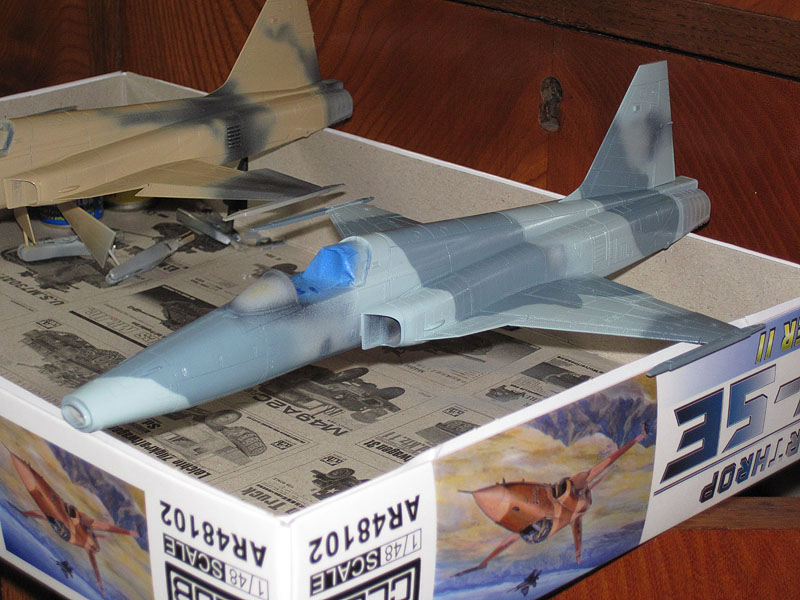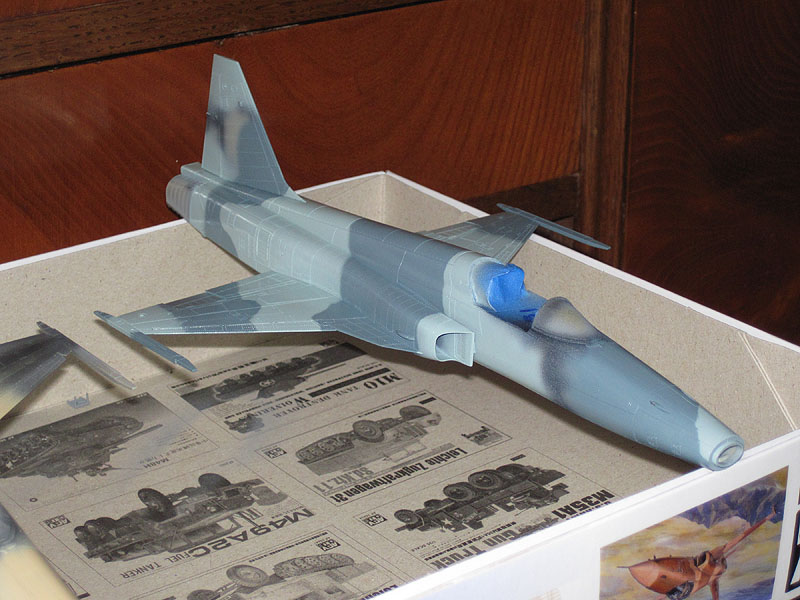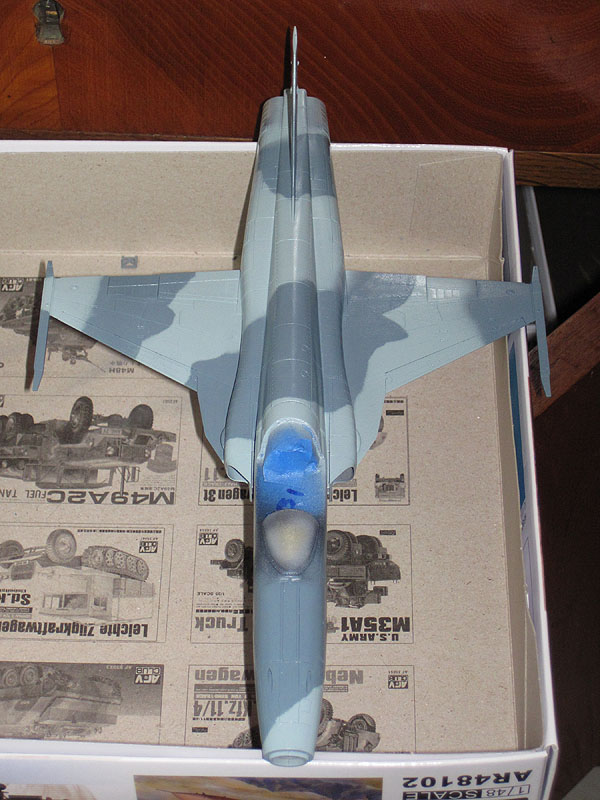 The last upper surface colour was FS 15109: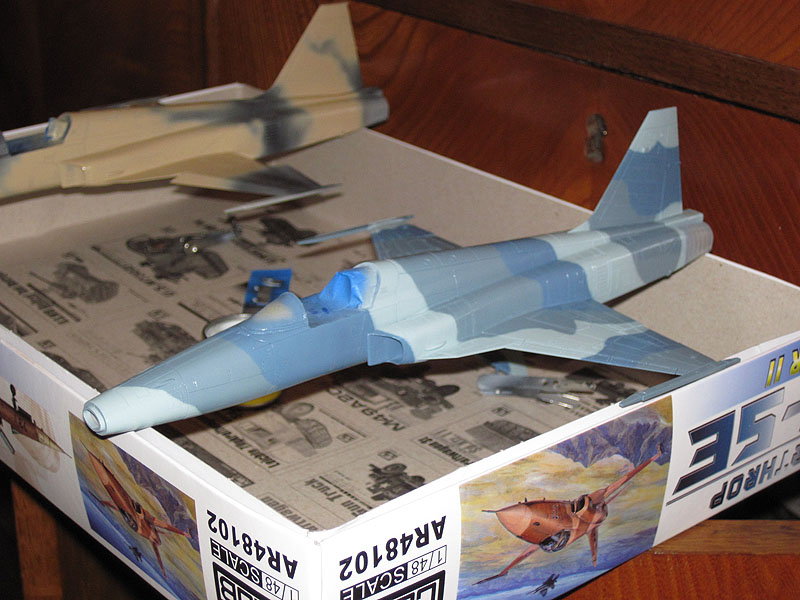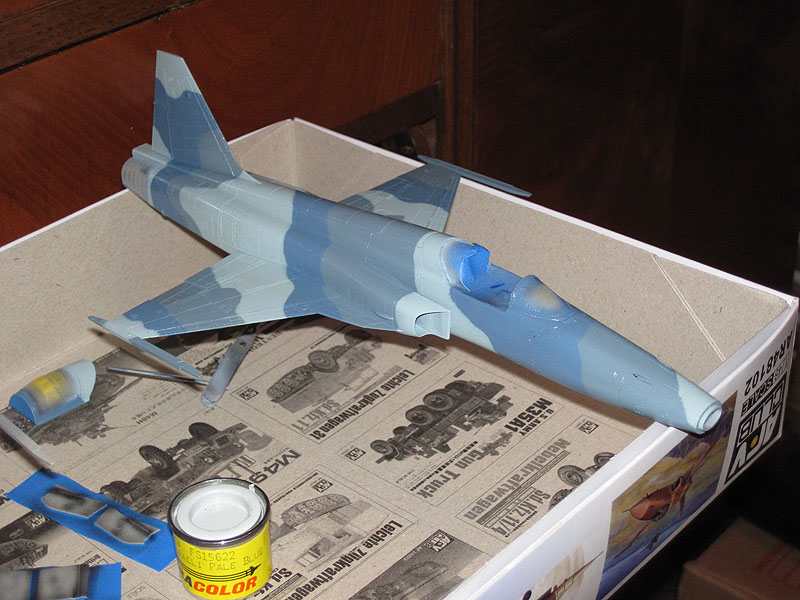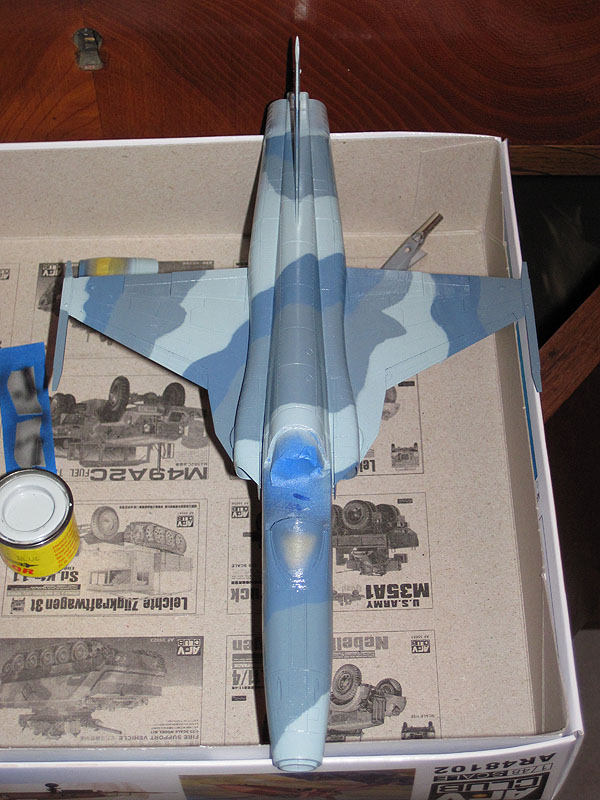 Last part of the main painting job was the pale blue underside colour (FS 15622). For some odd reason this colour was a bit of a struggle to get to lay down nicely. I haven't had problems with the other three colours though. Despite the minor problems all colours was sprayed freehand using Xtracolor. 
This is what the model looked like after the lower surfaces pale blue had been applied: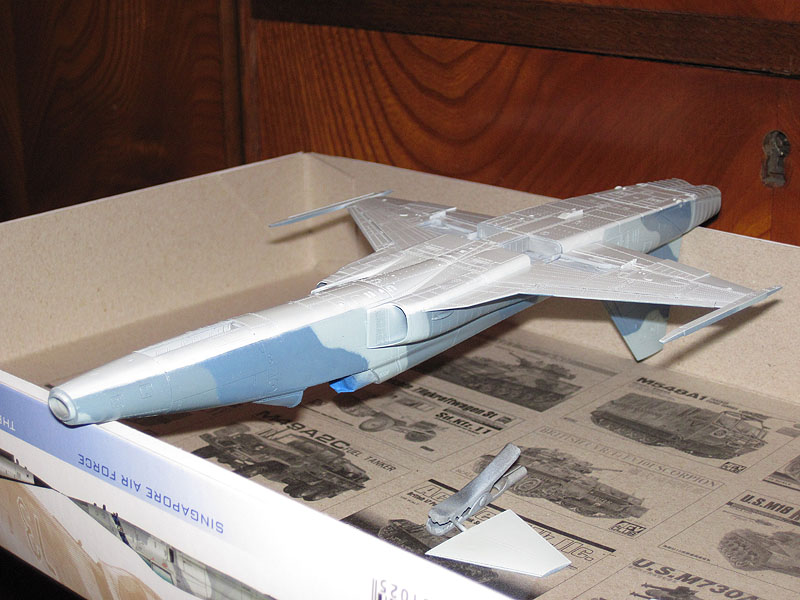 Next job was to paint the aft fuselage with Alclad and the undercarriage and bays with a mix of Model Master steel and chrome silver.
Applying the decals was not without its worries. The Two Bobs decals were off-centre so the the white background is visible on the national markings and the tail fin badge. The national markings were discarded and replaced by some good ones, but that was not an option for the tail fin badge, so I had to apply it.
I also found out - in time - that the Two Bobs instructions are not to be trusted as they show the national markings and 'U.S. Air Force' titles in the standard places on the fuselage sides. They were not placed like that on this as well as a number of other Alconbury aircraft, but Two Bobs haven't shown this correctly.
Onto the pictures: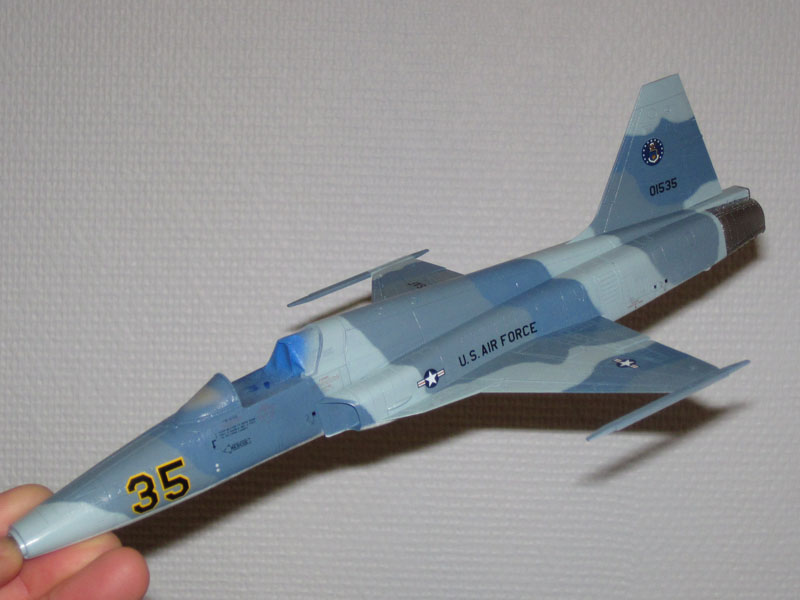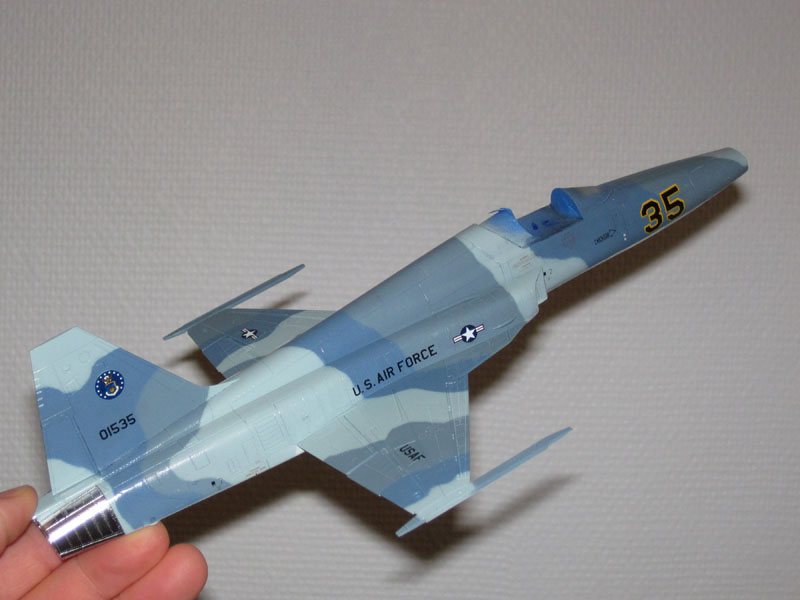 After these pictures were taken I discovered that this aircraft most likely had black walkways on top of the wings. I applied those after shooting the pictures, using the ones from the Afterburner Decals sheet as the black lines on the Two Bobs decals were way too wide.
The model was left to dry thoroughly before I applied the usual wash using ProModeler (now Florymodels) Dark Wash. Next step was to apply a final clear coat using a mix of Model Master flat and gloss varnishes.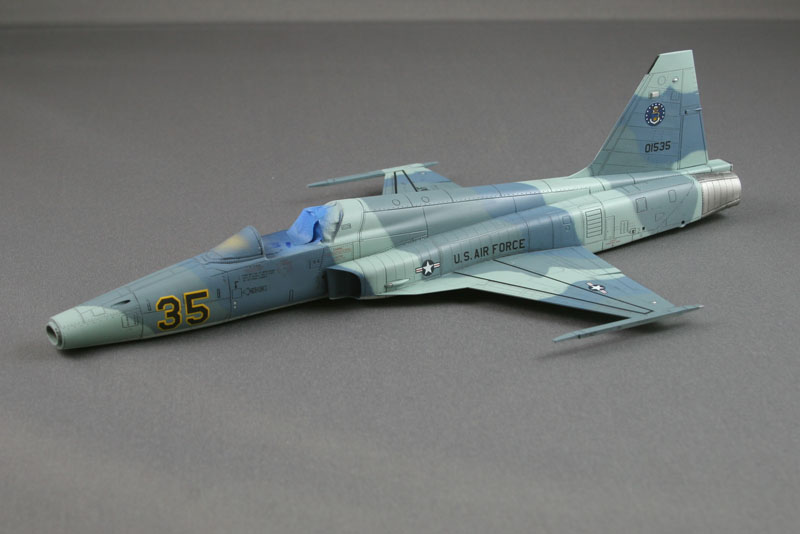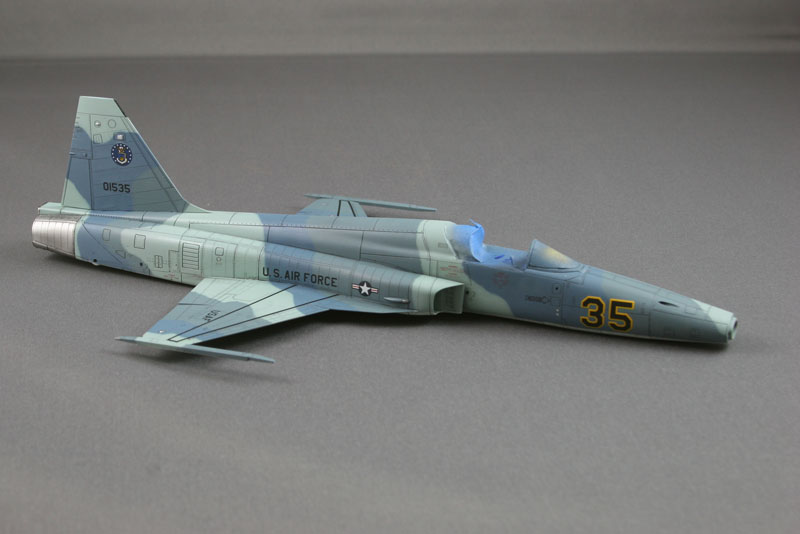 This model is still a work in progress and this article will be updated accordingly.
Last Updated on Monday, 11 April 2011 08:06